Print Experiments
Townsville artist Erin Ricardo's Print Experiments project presents fun and engaging printmaking techniques, aimed for children 3-11 years old.
In three short video tutorials, Erin teaches how to use basic art materials and items found at home to create stamps and paper collagraphs and to collage and hand-colour artwork details. The tutorials can be watched in a row to create one complete artwork, or individually to learn new techniques. Each activity will likely take children 20-60mins to complete. Adult supervision is recommended as scissors and paint are required, and things may get messy! Feel free to swap out some of the materials if you don't have them, and experiment with what you already have at home – the more prints you try, the more diverse your finished artworks can be!
Episode 1: Stamping
This activity shows children how to use found objects in the home to stamp patterns and textures onto paper with paint. This can be used for the background of an artwork.
Materials required: acrylic paint, a sponge, a plastic lid or paint palette, paper PLUS everyday materials for stamping (e.g. plastic containers, lego pieces, bubble wrap, rocks, leaves, seedpods).
Episode 2: Paper Collagraphs
This activity shows children how to use paper and thin cardboard to create a collagraph plate and print. Paper is cut into shapes, layered and glued onto a piece of cardboard to create the design.
Materials required: acrylic paint, a sponge, a plastic lid or paint palette, a paintbrush, thin cardboard, paper, a pencil, scissors, glue stick, PVA glue and dishwashing liquid.
Episode 3: Hand-colouring and Collage
This activity shows children how to add further details to their prints by using watercolour paint. Alternatively, children could hand-colour their prints with coloured pencils. This activity also shows how to cut & glue the collagraph prints made onto the stamped background.
Materials required: watercolour paints, a jar of water and watercolour paintbrushes (or coloured pencils), paper, scissors, and a gluestick.

Feel free to share your children's results on Instagram or Facebook with #UmbrellaPrintExperiments – we can't wait to see what you have come up with!
Commissioned by Umbrella Studio Contemporary Arts through Creative Kids, this project received generous support from the Regional Arts Development Fund. RADF is a partnership between the Queensland Government and the Townsville City Council to support local arts and culture in regional Queensland. Creative Kids is Umbrella's program for children aged 3-11 years old. It encourages children to let their imaginations run wild and to experiment with a range of materials and techniques.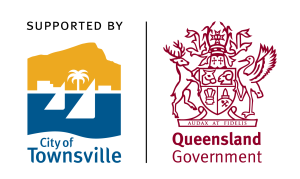 COVID Safe Visits
Umbrella asks that visitors adhere to social distancing, visitor logs, and other COVID Safe directives and procedures as directed.
Open Hours
Tues - Fri: 9am-5pm
Sat - Sun: 9am-1pm
Gallery closed Mondays, public holidays and during exhibition install weeks.
Follow our social media for updates.
Contact
408 Flinders Street,
Townsville, Qld, 4810 Australia
PO Box 2394,
Townsville, Qld, 4810 Australia
Send us a message here
Acknowledgement of Country
Umbrella Studio Contemporary Arts respectfully acknowledges the Wulgurukaba of Gurambilbarra and Yunbenun and the surrounding groups of our region; Bindal, Gugu Badhan, Nywaigi, Warrgamay, Bandjin and Gudjal as the Traditional Custodians of the land on which we gather, share and celebrate local creative practice. We pay our respects to Elders past, present and emerging. We acknowledge Aboriginal and Torres Strait Islanders as the first people of Australia. They have never ceded sovereignty and remain strong in their enduring connection to land and Culture.
Acknowlegements
Umbrella is supported by the Queensland Government through Arts Queensland, part of the Department of Communities, Housing and Digital Economy, and by the Visual Arts and Craft Strategy, an initiative of the Australian, state and territory governments.
Townsville City Council is a strategic partner of Umbrella's program.